Surface treatment
Improve the resistance of a part in a corrosive environment by adding a coating on the screw of a daggerboard hitch.
Our engineering, who has designed or co-designed parts or assemblies, proposed a solution based on our surface treatment know-how to solve a problem of daggerboard hitch.
Customer in the pleasure boating sector
The yachstmen of our customer, leader of the pleasure boating market, encounter issues when hitching their boat daggerboard. This issue is reported on several discussion boards dedicated for the boating sector. According to these boards discuss "only a strong man is able to ensure the daggerboard hitching"
«

Only a strong man is able to ensure the daggerboard hitching

».Boards discuss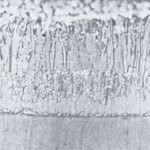 Encountered issue
The encountered issue : a seizure due to the stack effect of two materials –bronze and stainless steel- immersed in corrosive sea water, asks for a thread quality and surface treatment expertise.
Andre Laurent's proposal : apply a coating on the screw
After exchanging with our customer, our engineering proposed a solution by applying a surface treatment on the screw to isolate both materials and improve the coefficient of friction.
For surface treatment, André Laurent has applied one of the many treatments available and mastered: anodizing, cadmium plating, hard chrome plating, phosphating, electrolytic zinc plating …
Advantages of the solution

Appropriate material stack = improve galvanic corrosion resistant


Reduced seizure

Reduced maintenance

Easy to use
Approval of the forged part
The test performed to approve this solution have been conducted by the customer itself under the conditions of use. They have been positive in terms of:
Significantly reduced maintenance

Easy to use and therefore practicable for a wider audience.
According to the customer "a 10 year old kid is able to hitch the daggerboard"
"A 10 year old kid is able to hitch the daggerboard!"

Customer